The Wildlife Man Podcast
The incredible true & death-defying stories of the Original Crocodile Man David Ireland.
David Ireland is Australia`s " original" Crocodileman David produced and presented the true-life adventure film that featured some of the most terrifying crocodile encounters ever filmed. During the making of his film, David came very close to losing his life to huge saltwater crocodiles. The film was a huge rating success on Discovery Channel worldwide and screened in some Cinemas for over a year. Tune in and hear Australian`s original Crocodileman life story, you will be inspired and entertained.
The Wildlife Man Signature Series Spearguns now Available from Undersee Australia ( www.spearguns.net.au )
Use the Promo Code WILD247
to get 15% off
What do you get when you combine 73 plus years of experience of Undersee Australia and the 60 plus years spearfishing experience of Australia's Wildlife Man David Ireland? One of the best Spearguns on the market today. The Wildlife Man Signature Series Spearguns
Become a Wildlife Man Podcast Supporter
Support the Wildlife Man Podcast on Patreon and receive some amazing benefits such as full access to all 21 Episodes of the Wildlife Man TV Show as seen on Discovery Channel & Channel 9, The Crocodile Man Film and Exclusive Content. Starting from as little as $4.
This Video is part of the promotion campaign we created for Undersee Australia. We have found a way to produce these Videos for our clients with no upfront cost under a monthly subscription model. Contact us today to find out how it works.
We have some fantastic opportunities available to promote your brand through the Wildlife Man Website & Social Media Channels. With a combined subscriber base of over 25000 engaged users and over 2 Million Views on Youtube & Facebook The Wildlife Man name is the perfect fit for companies in the Outdoor, 4WD, Diving, Fishing & Hunting Markets. We have different cost effective options available to suit any size business & budget.  
ABOUT
David Ireland is the Wildlife Man his films shown on major TV networks worldwide including Discovery HD Channel and in Australia on Channel Nine and Win TV.
David is arguably one of the most experienced wildlife film producers in the world. He has been making wildlife films for over 35 years and works with a huge diversity of creatures, everything from whales and sharks to snakes, crocs, marsupials, insects, birds and African mammals. Check out the Wildlife Man`s YouTube channel to see hundreds of short video clips of David working with animals.
Being the Wildlife Man has not been without danger, his back has been broken by a whale, he has been bitten by sharks and crocs and even had his ribs smashed by a wild boar. David`s passion has always been to showcase the problems native animals face trying to survive in the modern world. David is an experienced SCUBA diver and master dive instructor, a sea captain.
David is also a very experienced bushman and bow hunter, he also has a passion to rid Australia of feral animals that cause local extinction of endangered native animals.
David is very much a family man, married to Susan, he has four sons: Luke, Adam, Nathan and Jason and three grandsons, Oscar, Harvey and Alfie. Public speaking is also a passion that David Ireland enjoys very much.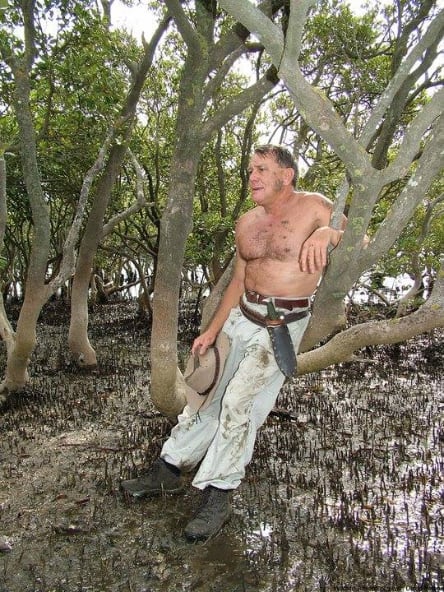 The Wildlife Man TV series as shown world-wide on major TV networks including Discovery channel. The series includes 21 episodes featuring David Ireland ( The Wildlife Man) exploring a huge diversity of habitats including: Underwater reefs and shipwrecks, tropical jungles, deserts, wetlands, woodlands, rain forests, rugged mountains and remote arid regions of Australia, the south pacific and Indian ocean islands, Asia and Africa.