As seen on
   &   
The official Website
of "The Wildlife Man" David Ireland
The Wildlife Man Podcast
The incredible true & death-defying stories of the Original Crocodile Man David Ireland.
We have some fantastic opportunities available to promote your brand through the Wildlife Man Website & Social Media Channels. With a combined subscriber base of over 25000 engaged users and over 2 Million Views on Youtube & Facebook The Wildlife Man name is the perfect fit for companies in the Outdoor, 4WD, Diving, Fishing & Hunting Markets. We have different cost effective options available to suit any size business & budget.  
The Wildlife Man is a proud ambassador for the following brands & businesses.
Pure Vitality

Pure Vitality Supplements are part of the secret to my ongoing mobility, flexibility, and strength.  Their Deer Antler Velvet for instance is a wonderful source of cartilage building components, especially glucosamine.
Soodox
Soodox active pain relief cream contains 100 percent naturally sourced ingredients, it has no heat and is low on odor. Soodox pain relief cream contains rosemary oil and arnica, both used in traditional Western medicine to treat joint inflammation and pain.
Crunch Gyms
I'm a proud member of Crunch Gyms and am advocating a healthy and fit lifestyle for mature ages.
ABOUT
David Ireland is the Wildlife Man his films shown on major TV networks worldwide including Discovery HD Channel and in Australia on Channel Nine and Win TV.
David is arguably one of the most experienced wildlife film producers in the world. He has been making wildlife films for over 35 years and works with a huge diversity of creatures, everything from whales and sharks to snakes, crocs, marsupials, insects, birds and African mammals. Check out the Wildlife Man`s YouTube channel to see hundreds of short video clips of David working with animals.
Being the Wildlife Man has not been without danger, his back has been broken by a whale, he has been bitten by sharks and crocs and even had his ribs smashed by a wild boar. David`s passion has always been to showcase the problems native animals face trying to survive in the modern world. David is an experienced SCUBA diver and master dive instructor, a sea captain.
David is also a very experienced bushman and bow hunter, he also has a passion to rid Australia of feral animals that cause local extinction of endangered native animals.
David is very much a family man, married to Susan, he has four sons: Luke, Adam, Nathan and Jason and three grandsons, Oscar, Harvey and Alfie. Public speaking is also a passion that David Ireland enjoys very much.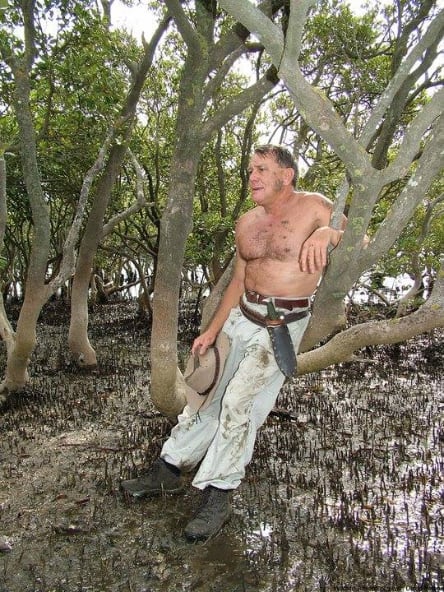 Watch the Wildlife Man Podcast on YouTube
Become a Wildlife Man Podcast Supporter
Support the Wildlife Man Podcast on Patreon and receive some amazing benefits such as full access to all 21 Episodes of the Wildlife Man TV Show as seen on Discovery Channel & Channel 9, The Crocodile Man Film and Exclusive Content. Starting from as little as $4.
The Wildlife Man TV series as shown world-wide on major TV networks including Discovery channel. The series includes 21 episodes featuring David Ireland ( The Wildlife Man) exploring a huge diversity of habitats including: Underwater reefs and shipwrecks, tropical jungles, deserts, wetlands, woodlands, rain forests, rugged mountains and remote arid regions of Australia, the south pacific and Indian ocean islands, Asia and Africa.
As seen on
   &   
The official Website
of "The Wildlife Man" David Ireland